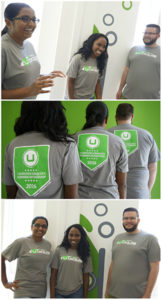 What are you doing for your summer break? A college internship can be a beneficial way to gain valuable work experience and introduce you to life after college.
Ubiquia offers internships in variety of departments, including software development, marketing, and software support. With a dedicated team and strong leaders, Ubiquia's internship program promises plenty of learning opportunities, vital business skills, industry insight, and, of course, lots of fun. This year Ubiquia was fortunate enough to have four amazing interns from Arizona's top universities including: Arizona State University, University of Arizona, and Northern Arizona University. Here is some firsthand advice on how to master your internship at Ubiquia from this year's Rock Star Ubiquia interns.
Be part of the team. Once you've started your internship at Ubiquia, you will become an instant part of the team. You will not find yourself getting coffee or making copies. You will be working side by side with the team, learning firsthand how Ubiquia achieves its business goals. This hands-on approach not only works as a learning experience but it gives you the chance to start applying what you are learning in school to today's business world. "It's important to remain proactive, speak up and to never be afraid to ask questions."
~Livia, Arizona State University, Marketing Intern
Work smart and play hard. There is no doubt that our developers and creative teams take their jobs very seriously, but it's not just all work; there is a healthy dose of play. In Ubiquia's laid back environment you aren't restricted to a cubicle and a suit. Come in your jeans and enjoy a round of foosball, bring in your dogs in on Fridays, or play a video game to get the blood flowing. Our professional and friendly team creates a unique environment that breeds creativity, offers encouragement, and challenges its interns. "As an intern, work hard and be ready to learn new techniques and skills."
~ Megha, University of Arizona, Engineer Intern
Collaboration is key. No one at Ubiquia works alone. The open office environment encourages conversations across the office. The open door policy also allows all employees and interns to communicate openly and easily with the Ubiquian leaders. With an emphasis on teamwork and open communication, there are no limitations to how employees collaborate with each other to produce the best results. "Embrace the team environment; your voice is needed."
~ Joe, Arizona State University, Support Intern
Go above and beyond. Everyone at Ubiquia is encouraged to let their inner rock star shine, and demonstration of high quality work encouraged and rewarded. It's up to you to make the most out of your time at any internship. "If you don't try to take a chance in the spotlight like a true rock star then you will only miss out on an amazing opportunity."
~ Keenan, Northern Arizona University, Support Intern
Let Ubiquia help you discover your path and remember to work smart and play hard. Apply for Ubiquia's 2017 Summer Internship today. Learn more about our 2016 Ubiquia Internship here!